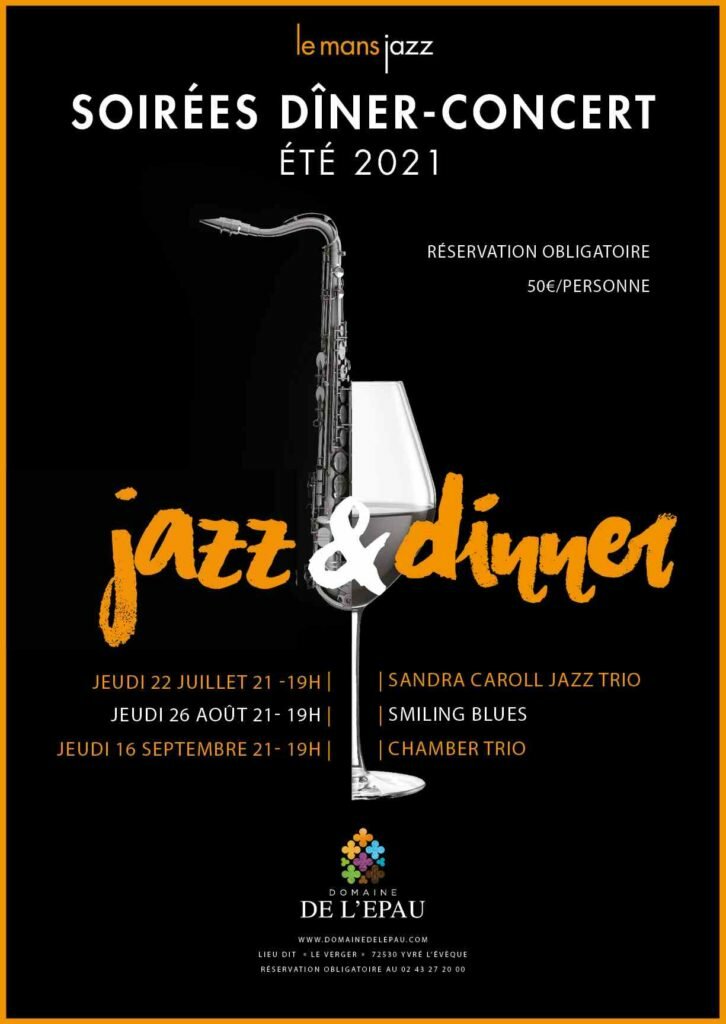 The Domaine de l'Epau and Le Mans Jazz have the great pleasure to offer you 3 exceptional evenings mixing music & culinary art in a suitable and cozy site, outside at the gates of Le Mans, in the exceptional and bucolic setting of the Arch of nature.
For each evening, a dinner concert will be organized with a full meal and musical performance with programming offered by Le Mans Jazz.
In view of the context, it is necessary to reserve if you wish to be present at the Jazz & Dinner evenings.
Price: 50 euros per person (including aperitif, full meal excluding drink + concert)
Information and reservations: Domaine de l'Epau – 02 43 27 20 00
Address: Le Verger 72530 Yvré-l'Evêque
Organized by Le Domaine de l'Epau and Le Mans Jazz.
In case of bad weather, dinner will take place indoors. Thank you for your understanding.
Thursday 22th July 2021
In 2020, the birth of swing celebrated its 100th anniversary !!!
Sandra Caroll therefore wanted to celebrate this anniversary with a refreshing project that offers a trio of a retrospective of the Swing movement from the 1920s to the late 1950s. A repertoire that will perfectly punctuate this first "jazz & dinner" evening of the summer. An unprecedented creation for the pleasure of the ears worn by benchmark musicians in the region!
Sandra Caroll – vocals
Nicolas Rousserie – guitar
Kevin Gervais – double bass
Thursday 26th August 2021
Located in Le Mans, Sylvain Couedel and Valérie Arethuse already have a solid experience within groups inspired by gospel, jazz, soul, folk and blues!
With the creation "Smiling Blues", the two musicians want to share their passion for this music, born in the United States around the delta of the Mississippi River, whose origins go back to the "worksongs", these songs which were used to give courage to slaves. The blues, born at the turn of the 20th century, has a clear influence on contemporary music and inspires today's musicians internationally. "Smiling Blues" is a musical journey starting from the roots of the blues to go to the music of today, from Son House to Robert Johnson, from Etta James to Nina Simone to Prince… An invitation to share "live" songs by legendary artists who were able, thanks to the blues, to freely express their sometimes harsh lives made up of failures and victories.
Valérie Arethuse – voice, percussion
Sylvain Couedel – voice, guitar
Thursday 16th September 2021
The Chamber Trio offers original compositions and also revisits with pleasure jazz standards with a formula without drums giving the group a warm and intimate sound.
These 3 musicians have developed over the years a sense of interaction and dialogue. The Chamber Trio thus distills a warm, spontaneous and always renewed music that they share "live" with all audiences.
Thibaud Thiolon – saxophone, vocals
Nicolas Rousserie – guitar
Denis Pitalua – double