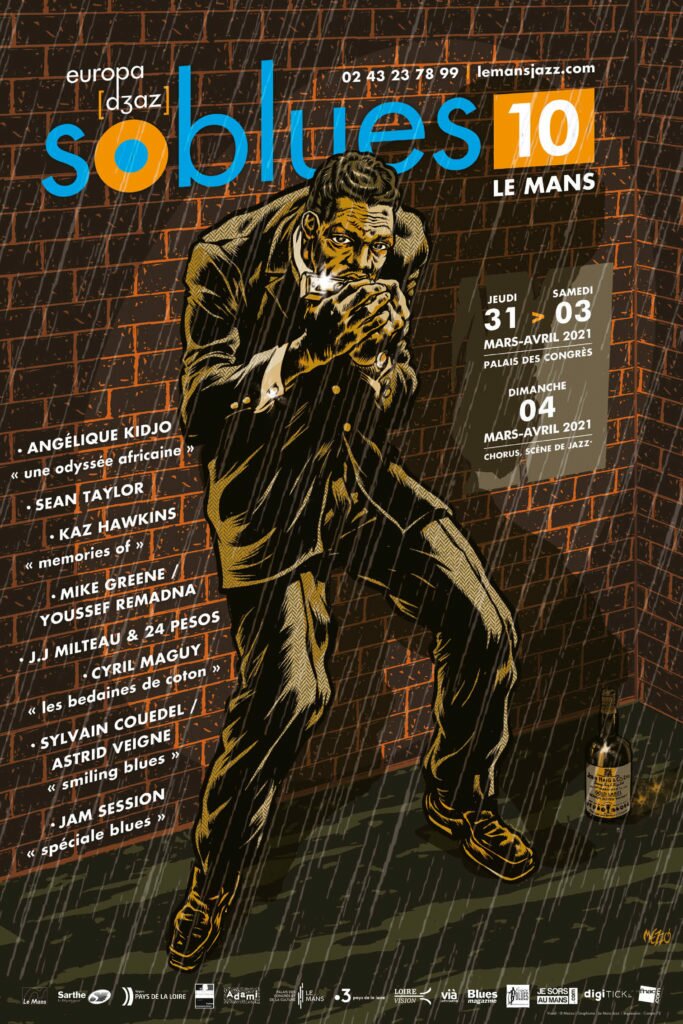 SOBLUES FESTIVAL
10th edition
Originally From December 3 to 6 – Le Mans
Postponed (in progress) to March 31 to April 3 – Le Mans
Palace of Congress and Culture
Chorus, jazz stage +
It's a royal wedding of over forty years that unites Europajazz and the blues!
From the first edition and the first season in 1980, we invite: Carey Bell, Little Willie Littlefield, Philip Walker, Lowell Fulson, Champion Jack Dupree… To then continue in the following years to welcome the biggest names in this music: John Lee Hooker , Eddie Clearwater, Jimmy Dawkins, Louisiana Red, Memphis Slim, Jimmy Johnson, Billy Boy Arnold, Lonnie Brooks, Luther Allison, Lucky Peterson, etc … In all over 140 blues concerts in four decades!
Since the 2000s, the "Chicago Blues Festival on tour" in November and the "Night of the Euroblues" in April punctuated our season with the blue note by attracting more and more spectators, sometimes with the difficulty of not being able to accommodate the many amateurs!
By offering the Soblues Festival in 2011, in Le Mans and in Sarthe, we wanted to open our arms wide so that all audiences can discover and love this "blues", a true matrix of all popular music today: rock'n ' roll to soul, country to jazz and hard rock to electro.
Partnerships (including France Bleu Maine, the city of La Chapelle-Saint Aubin, "Chez Miton" in Chahaignes) and historical partners (city of Coulaines, Les Saulnières …) have enabled us to create a real event: a festival of blues a week.
The Soblues is open to all styles (folk blues, British blues, Chicago blues, soul blues …), rich in headliners and European or French discoveries and which does not forget the cultural actions in addition to concerts: conferences, exhibitions and actions aimed at young audiences.
In 2020, Le 10e Soblues is set up at the Palais des Congrès et de la Cuture in Le Mans, a site allowing the desired development and expected flourishing of the festival: concerts, shows for schoolchildren and for the general public, exhibitions, training sessions and meetings professionals, blues market, welcoming professionals …
Additional highlights will also be offered, including blues jam sessions at Chorus, a new cultural venue in downtown Le Mans, a new venue created by Le Mans Jazz.
Following Covid-19, the programming has adapted with a more substantial focus on the European scene, the British blues scene, the ultra dynamic French scene and by stimulating creations at the local level by inviting young musicians for a repertoire of blues from the most traditional to the most current.
The Festival wishes to highlight the blues, all the blues and highlight international headliners as well as national and regional discoveries. The blues and its history, its traditions. Today's blues travel a lot and the repertoire evolves in an exceptional way touching a very large audience.